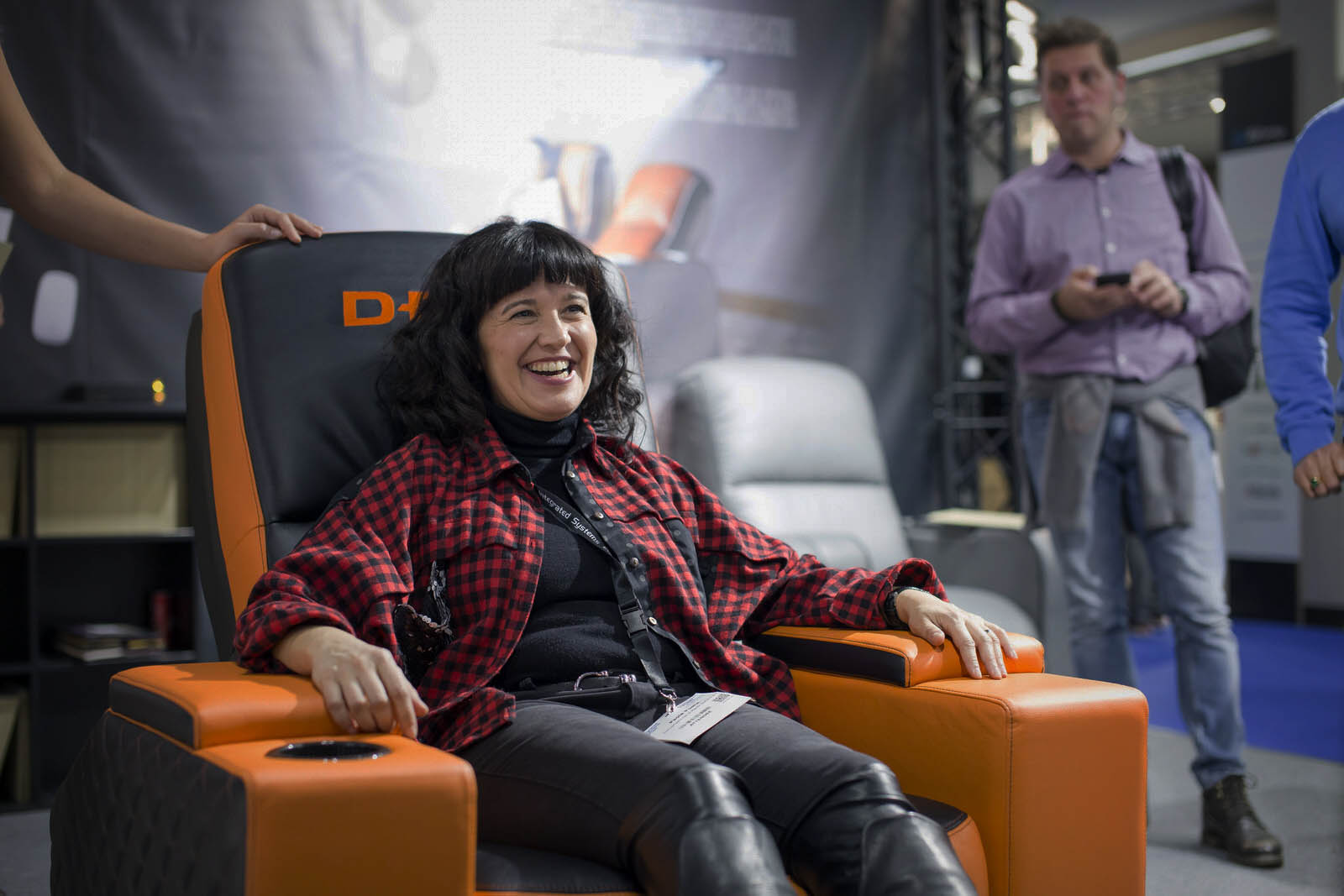 GET ON THE ULTIMATE CINEMATIC THRILL RIDE
D-BOX stands for pioneering cinematic motion solutions, built specifically for the movie theater industry. D-BOX's award-winning motion effects are in perfect harmony with on-screen audio and video, creating a home-viewing experience full of life and free of distractions.
The world's best immersive cinematic motion solution can now be integrated into any moovia® chair. Thanks to our very own integration framework, D-BOX systems seamlessly work together with both our single- and double-seat models. It's also possible to control several chairs at the same time.
The motion codes are stored on the D-Box server. For annual subscription fee, the Home Entertainment Motion Controller gets connected to the motion code database, checks new titles and automatically downloads them so you don't need to have a permanent internet connection. And if your home cinema doesn't have cable internet, it's not a problem at all. The HEMC can connect to your router wireless.
No matter the content source (DVD, Blu-ray™ or streaming services such as Netflix™, Hulu™ and AppleTV™), D-BOX HEMC™ easily identifies it from the audio and transmits the motion codes to your seating.
Many of today's home entertainment systems, like Apple TV, Android set-top boxes and streaming sticks, only come with digital output. We have our own solution to make sure that this won't get in the way of your perfect movie night.
Creating such magic takes much more than hardware. What makes the D-BOX watching experience resonate on such an evocative, true-to-life level is humanware: the talent, passion and virtuosity of the motion designers behind the software.
They're more than engineers: they're artists who carefully code each and every bit of movement so the chairs follow the action, visuals and emotions on screen as closely as possible. With over 1,400 movies currently available and additional releases coming out each month, D-BOX fills your home theater with thrill, tears and laughter, and countless memories to cherish.
Sitting in a D-BOX-enhanced chair, you don't just watch a movie. You live it through the most amazing, life-like cinematic motion solution that money can buy.